Mini Spring Rolls
Made with mini spring roll wrappers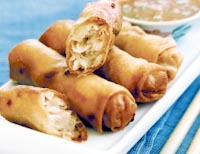 Yields 20
INGREDIENTS:
4 ounces ground pork
Marinade:
1 tablespoon soy sauce
Pepper, to taste
1 teaspoon cornstarch
Other:
6 medium shrimp
1 medium carrot
4 water chestnuts, fresh or canned
1 green onion
1 cup mung bean sprouts
1 cup shredded Napa cabbage
2 stalks celery, finely chopped
1 tablespoon minced ginger
1 tablespoon oyster sauce
2 teaspoons Chinese rice wine or dry sherry
2 tablespoons chicken stock
a few drops sesame oil
1 teaspoon cornstarch
Oil for deep-frying and stir-frying
16 to 18 mini spring roll wrappers
PREPARATION:

Marinate the ground pork with the marinade ingredients for 15 minutes.

Rinse the shrimp under warm running water and pat dry. Finely chop.

Peel and shred the carrot. Finely chop the water chestnuts.

Dice the green onion. Rinse the mung bean sprouts and drain thoroughly. Shred the cabbage. String and chop the celery.

In a small bowl, combine the oyster sauce, rice wine or sherry, chicken stock and sesame oil. Whisk in the cornstarch

Heat the wok over medium-high to high heat. Heat 2 tablespoons oil. When the oil is hot, add the ground pork. Stir-fry until it is nearly cooked through. Remove and clean out the wok.

Add 1 tablespoon oil. When the oil is hot, add 1/2 of the minced ginger. Stir-fry until aromatic (about 30 seconds). Add the shrimp. Stir-fry until it turns pink. Remove from the wok.

Add 2 tablespoons oil. When the oil is hot, add the remaining half of minced ginger. Stir-fry until aromatic. Add the vegetables and stir-fry. Push the vegetables up to the sides of the wok. Add the sauce in the middle, stirring quickly to thicken. Add the shrimp and pork back into the pan. Mix everything together. Allow the filling to cool.

Heat the oil for frying to 360 and 375 degrees.
[br To make the spring rolls, lay one mini spring roll wrapper in front of you. Wet the edges. Add 2 heaping teaspoons in the bottom half. Take the bottom edge and wrap over the filling, tuck in the 2 side edges, and continue rolling up. Seal the edges.

Deep-fry the spring rolls until golden brown and crispy. Cook in batches, taking care not to overcrowd the wok. Remove with a slotted spoon and drain on paper towels. Serve hot.